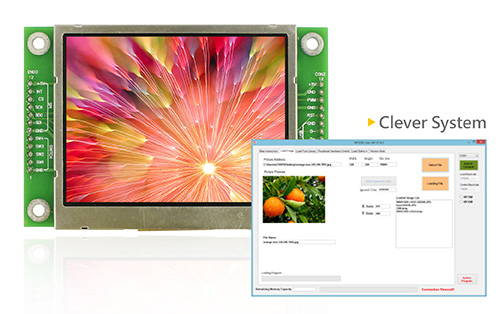 All in One TFT LCD Displays (Clever System)
M Series TFT Displays which we called "Clever System-All in one TFT Display" is an easy access system for users to begin exploring the colorful display on their applications. The M Series Modules are "all in one system" which has 2 user interfaces including UART and SPI interfaces; it supports backlight brightness adjust, PWM signal output and 4 switches button sensor. Winstar Display has already designed a TFT editing program for end users to design their software more easily.
There are many benefits of Winstar Clever System TFT LCD Display for why customers should choose the M Series, below are the key advantages –
All in One System: We build the micro controller behind the TFT panel, it can driver TFT, backlight and touch panel directly. The M Series modules also have microcontrollers, SRAM (frame buffer) and flash storage (graphic files).
Convenient to Upgrade: The frimware can be upgraded on line to download the new version; therefore, the customers don't need to upgrade via burning machine.
Less Coding Process: Programming and test of these modes can be done by our software "user interface" (UI). Winstar's UI program can demo what you want; so users don't need to write any software.
Reduce I/O Port: The customers can use UART or SPI-4 Line to driver TFT directly. A suitable USB adapter is also included in the scope of supply.
There is an optional development board which Part no. is WWTFT-10# for customers to accelerate the project for test function.
Fler TFT All in One finns i sortimentet än vad du ser på sidan. Kontakta oss.
WF35MTIBCDRN0

Size(inch):
3.5
Display Format:
320×240
Outline Dimension (mm):
100×66.44
Active Area (mm):
70.08×52.56
Interface:
SPI,UART